⚠️STUB NOTICE⚠️

This article is a stub, it is incomplete and will need more information. Please contribute to it if you have more knowledge about it.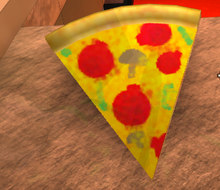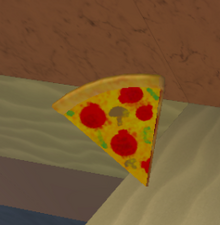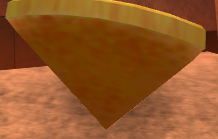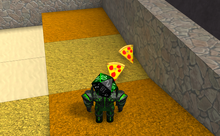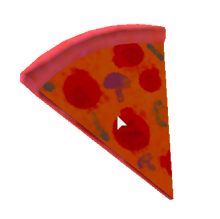 Information
Pizza is an item that randomly appears around the map during rounds. It can be knocked around by bombs and is not static.
The item resembles a slice of pizza that spins around when idle. Once a player touches it, the pizza disappears and the player is healed for 15 HP, but the Pizza Lover perk doubles it, healing for 30 HP. If a player has full HP, the Pizza will only disappear.
There is also a rare Pizza Box, and this heals 40 HP. If the Pizza Lover perk is equipped, then this heals a whopping 80 HP.
There is also a Cursed pizza, which is colored red. If a player touches it, the pizza will summon toxic gas which makes any players in it take 5 damage per second. There's a skill for this.
There is also a Giant pizza, which falls during the It's raining giant pizza! event. Each part of the giant pizza (besides the crust) heals 10 HP.
Tips and Tricks
Pizza Lover perk doubles the power of Pizzas, but they appear rarely.
The Pizza can be consumed even with full health to steal it from other players that could need it.
You can earn a badge called "Pizza My Heart" by collecting 250 pizzas!
Only on April 1, 2019 (aka April Fools Day), all of the pizzas were replaced by burgers, including the Pizza event. (Photo required)

Because of this, the lobby was decorated with burgers and the game's name Super Bomb Survival was also renamed to Suber Bomb Survival. (Photo required)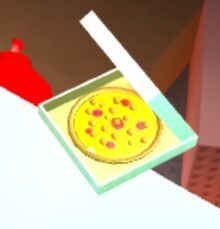 Community content is available under
CC-BY-SA
unless otherwise noted.