Forcefield is a Defensive Skill. The Skill is quite good, since It blocks all damage, including burning lava!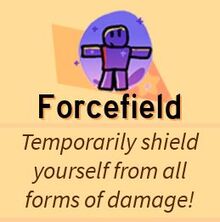 MORE ABOUT THE "FORCEFIELD"
- It will create a shield, blocking damage after a 1 second delay.
- You can not protect others (Of course).
- Duration : About 8 seconds.
TIPS & TRICKS
- If you want to have fun, activate near bombs and fling!
- If there is a Shock Bomb/Poison Bomb, activate and go through!
- When you're launched near the end game, use the skill to prevent from launching into lava.