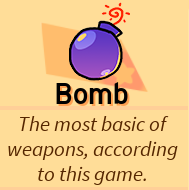 Bomb is a starter skill that is granted to all players upon joining for the first time.
How It Works
Upon activation, a Bomb will spawn in front of you. It will immediately be lit, and after a short period of time it will go off, destroying things and damaging players in its blast radius.
Pros & Cons
Pros:
Medium-high damage
Shorter cooldown (13 seconds at level 3)
Free
Cons:
Visibly obvious
Audible
Long fuse
Short range
Rolls around
Difficult to aim
Tips & Tricks
Use in a dark area
Hide the bomb behind walls, or underneath people who are on a raised platform.
Activate on flat, stable ground to avoid it rolling away.
Throw it in a hole that people are standing in.
Trivia
This is the first bomb you get in the game